This is the home of the research project And Others: The Gendered Politics and Practices of Art Collectives which explores labour in collective practice. It is run by Lina Džuverović, Course Leader, MA Curating & Collections, Chelsea College of Art. The project consists of an ongoing series of research interviews, a series of public online panels which took place in the Autumn of 2022, further public events unfolding between 2023 and 2025. Documentation of panel discussions, interviews and essays will be made available on this website.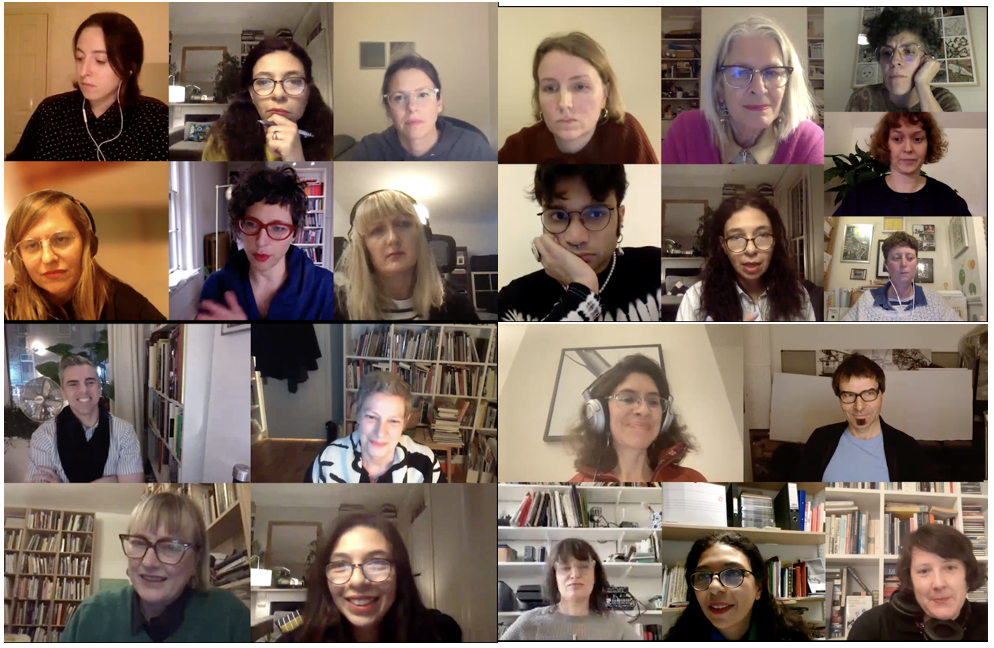 This project examines the inner workings and division of labour within contemporary artists' collectives, seeking to highlight inequalities, forms of silencing and marginalising of certain participants. Approaching the study of art collectives intersectionally, it critically examines their constitutions, processes and practices, drawing on social reproduction theory, the notion of 'the disoeuvre' (Allen, 2016), proposing a wider reading of what constitutes artistic practice and advocating for a more inclusive approach to collectivity. The project highlights tensions between ideological beliefs and praxis, examining how such groups may inadvertently reproduce forms of oppression and silencing (often along gender lines) prevalent in neoliberal capitalist patriarchies that they seek to counter. Such reproduction of oppressive structures not only erases certain subjects, but also writes them into history in particular ways. Shifting the focus from outputs to collectives' internal operations, the project highlights structural inequalities and tensions, through a close study of selected groups operating within the networks of contemporary art.  
The title 'And Others' refers to ways in which art collectives are often written about and remembered within discourses governed by individualism and an attachment to single authorship. The most prominent and vocal members' names are usually listed while other participants of the group may not be named at all or may be listed as 'and others', suggesting contributions which may be of lesser importance. This project is about 'the others'. It investigates internal workings and the often gendered division of labour in art collectives, examining how different types of labour are valued and how this is subsequently inscribed in the groups' narratives.
The research involves a series of semi-structured interviews with cultural workers who have been or are working collectively, or those who have a special interest in collective practice. Whether working in formally declared collectives or groups, or collaborating in spontaneous ways, the interviewees are being asked to discuss their personal trajectories and experiences.
If you are working collectively, or wish to contribute your perspective, please contact me so that we can begin a conversation.