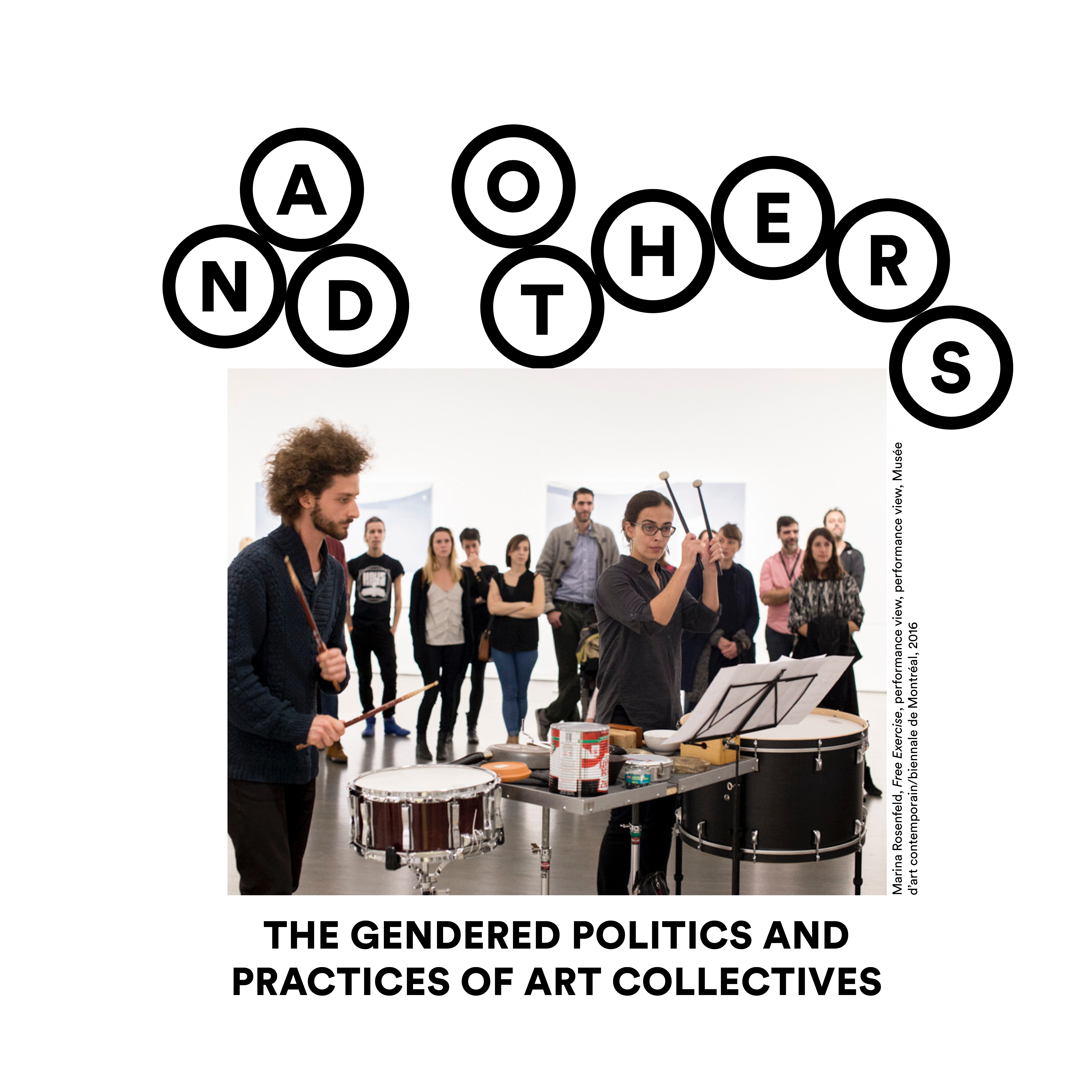 Discussants: Ximena Alarcón-Díaz, Kuda.org/Zoran Pantelic, Irene Revell, Marina Rosenfeld.
Moderator: Lina Dzuverovic
Keywords: collaboration, collectivity, sound, performance, improvisation, feminist, score, networks.
BIRMAC and Art Monthly, in association with Electra present:
One of four discussions within the research project 'And Others: The Gendered Politics and Practices of Art Collectives' which investigates different questions central to collective work. Building on two months of asynchronous collective writing, involving seventeen participants, the panelists below consider how we might write, think, read and practice together through other means.
This panel questions the relationship between medium and process, taking in improvised and experimental sound practices to ask questions about different attitudes to and experiences of collective work, and whether a certain openness and enthusiasm towards collaboration, and an excitement about the process itself predominates within music and sound practice, as compared to the visual arts. Drawing on participant's experience of working across both sound and visual arts contexts, the conversations considers structural issues of how such work comes into being—how participants become involved in collaborating or improvising together, how such processes find a form, and the ways in which that form then finds a place in the world, and then extends through encounters with audiences. It asks whether in their very nature of being temporary, migratory, unstable, and a lesser emphasis on the finished product or end point may offer openings for radical rethinking of contemporary art. What does it mean to work within a group that will ultimately disperse, and what are the relationships between that particular temporality, and the materiality of the score itself?
Could such forms of process-based togetherness create communities that can be maintained and developed, or expand further through exposure, performance, sharing? Perhaps performance, improvisation, scores, or other forms of processual co-creation create possibilities of engagement and reception that are different to those cantered around the creation of art objects. If so, what can we make of such freedoms? If individualist, linear narratives of art, centred around a belief in the progression of an oeuvre as a gradual build-up of a singular artist's career, could networks of collaborative, ephemeral / temporally based practice offer an alternative? What conditions are necessary to be part of such a network (who has access and through what means?) and what barriers might be in place for people in terms of engagement with such projects or networks?
Panelists also address the specificity of context and conditions—personal, interpersonal and infrastructural, and asks how organisation and pragmatics can be accounted for and remain aligned with the political impulses of particular forms of practice and work. In particular it questions the role of listening in relation to such work, and its potential for redefining modes of attention, relation, and maintenance. Further, how can the researching, reviving, unearthing and curating of histories of improvised music and sound inform new models of organising for DIY networks, or artistic groups, and their complex relationship to institutions?
The panel conversation will be followed by an informal Q&A with the audience.
Please note all events within this series will be recorded.
Participants:
Ximena Alarcón-Díaz
Ximena Alarcón is a sound artist-researcher interested in listening to our sonic migrations: in-between sonic spaces manifested in dreams, underground public transport and cultural and technological mediations in the migratory context. She is a Deep Listening® tutor, with a PhD in Music Technology and Innovation. Throughout her career, she has created telematic sonic improvisations and interfaces for relational listening, to understand sensorially her and others' migratory experience, as if in search of a collective interface that holds such sonic in-betweeness. Her most recognized works are the interactive sound space Sounding Underground (IOCT-DMU, The Leverhulme Trust Fellowship 2007-2009), the series of telematic sound performances Networked Migrations (CRiSAP – UAL, 2011-2017), and INTIMAL: an embodied physical-virtual system for relational listening to improvise telematically in the context of human migration (RITMO – University of Oslo, 2017-2019, Marie Skłodowska Curie Individual Fellowship). Emerging from her INTIMAL project, Ximena leads the online-based INTIMAL co-creation collective of Latin American migrant women in Europe listening to our migrations, through dreams and migratory journeys, expanding notions of femininity, territory and care.
As a resident at The Studio, she was awarded the 2021 Studio Recovery Fund to develop independently the INTIMAL App©, a mobile platform that invites people to listen to their "migratory journeys". Publications derived from her research include a book chapter "Breathing (as Listening): An Emotional Bridge for Telepresence" in The Body in Sound, Music and Performance (2022) Ed by Linda O'Keefe and Isabel Nogueira. Also, she has published articles such as "Sonic Proximities: Locating Oneself and the Others Within a "Migratory Journey" " (2022), and "Sensing Place and Presence in an INTIMAL Long-Distance Improvisation" (2019), in the Journal of Network Music and Arts; "Conceptual design for INTIMAL: a physical/virtual embodied system for Relational Listening" (2019), in the Journal of Somaesthetics; "Networked Migrations: listening to and performing the in-between space", (2014) in Liminalities: A Journal of Performance Studies; and "Embodied Sonic Memories of Commuting Underground," (2017) published in 2020 at IA: The Journal of the Society for Industrial Archeology.
Irene Revell
Irene Revell is a curator and writer who works with artists across sound, text, performance and moving image. Much of her work since 2004 has been with the London-based curatorial agency Electra, and she has been closely involved with collections including Electra's Her Noise Archive and Cinenova: feminist film and video, as a trustee and founder-member of the Cinenova Working Group. Recent projects include They are all of them themselves and they repeat it and I hear it, a year-long reading of Gertrude Stein's The Making of Americans in 2020, co-organised with Anna Barham; workshop series These Are Scores (Camden Arts Centre, 2019; Sounding Bodies, Danish Royal Academy of Fine Art, Copenhagen, 2018; CNEAI, Paris, 2017, amongst others); exhibition project ORGASMIC STREAMING ORGANIC GARDENING ELECTROCULTURE with Karen Di Franco (Chelsea Space, London, 2018). Recent writing includes essays in Performing Indeterminacy (Contemporary Music Review Special Issue, 2022 forthcoming), The Body in Sound, Music and Performance (Routledge, 2022); catalogue texts for Charlotte Prodger (Koenig, 2022), Pauline Boudry/Renate Lorenz (Spector Books, 2022), Beatrice Gibson: Deux Sœurs (Sternberg Press, 2020); and with Lina Džuverović, Parse Journal special issue on Art & Work (2020) and OnCurating special issue Curating In Feminist Thought (2018). In 2019 she collaborated with Primary Information on the publication of a new facsimile edition of Womens Work (co-edited by Alison Knowles & Annea Lockwood, 1975-8). Since 2014 she has been Curator/Lecturer on the MA Sound Arts, London College of College of Communication where she will shortly submit the AHRC-funded practice-based doctoral thesis Live Materials: Womens Work, Pauline Oliveros & the 'feminist performance score' at CRiSAP.
Marina Rosenfeld
Marina Rosenfeld is a composer and artist based in Brooklyn, New York . Working across the disciplinary boundaries of music and visual art, she has created a significant body of work integrating sound, music and performance with social and sculptural interventions. She has created works for the Museum of Modern Art, the Park Avenue Armory, the Whitney, Guggenheim, Serralves and Stedelijk museums, South London Gallery, and festivals including Borealis, Donaueschinger Musiktage, Musica Strasbourg, Borderlines, Ultima, Wien Modern, Tectonics and the Holland festival, among many others. Rosenfeld's work has been featured in solo exhibitions by institutions including Portikus Kunsthall (Frankfurt), Kunsthaus Baselland (Basel), The Artist's Institute (NY), the Center for Curatorial Studies at Bard College (NY), and in surveys including the Whitney Biennial (2002 and 2008), the Aurora Biennial (2020), the Montréal Biennial (2016), the Liverpool Biennial (2011), the PERFORMA Biennial (2009 and 2011), and 'Every Time A Ear di Soun,' the radio program of documenta 14 (2017). Rosenfeld was a faculty member of Bard College's MFA program (The Milton Avery School of the Arts) from 2003-2021, and co-chair of its program in Music/Sound from 2012-2021. She will return to the program as its invited Visiting Artist in 2022, and continues to teach composition within Brooklyn College's Conservatory of Music. She has also taught as a visiting faculty member at Yale University, Harvard University, and Dartmouth College, among others. She is a frequent lecturer on experimental music, sound art and contemporary interdisciplinary praxis, with recent lectures at Berlin's Haus Der Kulturen Der Welt (Life Forms, 2019, and Der Ohrenmensch, 2018), Cornell University (After Experimental Music, 2018), the Goethe Institute Chicago (Sexxxing Sound, 2017) and many others. Her recordings are on Room40, Shelter Press, 901Editions and forthcoming on INFO Unltd.
Zoran Pantelić, is a artist, producer, curator and program editor in kuda.org.
A freelance artist since 1991, he founded artistic association Apsolutno (Absolutely) in 1993. The art collective was active in the nineties in the field of interdisciplinary art projects and media pluralism (www.apsolutno.net). Apsolutno art production was presented in numerous exhibitions, festivals and symposiums in Serbia and abroad. Since 1995 he participated in international symposia and conferences dealing with art and culture of new media.
In 2000 Zoran Pantelic founded kuda.org_new media center, in Novi Sad, the collective dedicated to new technologies, art, education, activism and politics. kuda.org acts as a platform which gathers artists, scientists, activists and practitioners around its projects. From 2005 to 2008 he taught at the Academy of Art Novi Sad as a part-time lecturer. One of founder and mentor in development of the Youth Cultural Center CK13 in Novi Sad since 2007. Since 2010, he is a member of the European Cultural Parliament, international platform which brings together artists, theoreticians, journalists, politicians who encourage advocacy for better conditions in European Culture. One of the initiators of the initiative for the reconstruction of cultural and social life in Novi Sad 'For Culture Policy – Politics of Culture' launched in 2009 as joined action of the protagonists of the independent art scene in town. Since 2012 till 2020, he was the Board memeber of the Association of Visual Artists of Vojvodina (SULUV) with her headquarters in Novi Sad. http://suluv.org.
since 2019 he is a Member of the Management Board, CA18136 – European Forum for Advanced Practices, COST (European Cooperation in Science and Technology).
He has received several awards for his art work. Several works from the period of work in the field of sculpture and also work in the collective Apsolutno, as well as kuda.org.
Zoran Pantelić is dedicated and focused on experimentation in arts and cross disciplinary works. That is why in his research he always initiates inter-disciplinary lines that can overlap to create projects that explore processes and techniques, address social, political, cultural and critical issues.
Centar_kuda.org is a non-profit independent organisation, focused on experimental and critical arts. It was founded in 2000 in Novi Sad, Serbia. The Center is established as a permanent physical, organisational and human infrastructure. It gathers artists, architects, theoreticians, engineers, etc., with the aim of developing artistic production of non-institutional, experimental and non-profit character, involving all production stages of work, from collaborative conceptualisation and research to final realisation. Established as a proto-concept machine, activities that arise from the production are exhibitions, symposiums, publishing, actions, public interventions etc., and they arise in response to the problems and phenomena of the society in which we operate. Since its establishment to this day, the organization has changed the focus and methods of its work in accordance with social changes at the local and international levels. At the outset it was more focused on relations between technology and art. Over time, it has expanded the field and methods of its work on phenomena that encompassed a wider spectrum of society and politics. The specific environment in which Center_kuda.org operate, that is, Serbia in the period of transformation, characterised by the change in the ideological paradigm from socialism to capitalism, and by processes of privatisation and commercialisation of culture, have had an impact on the nature of our work and our tactical approach in relation to the dominant nationalist/populist politics, which significantly affects cultural politics and the work conditions for organizations outside of the state-supported system.